Fat Tuesday (Mardi Gras) 2022 is March 1st this year, and after we learned about this midwinter bacchanal in our previous post, we want to show the best ways you can participate and overindulge like a Mardi Gras pro.
If you can't make it to New Orleans, (or any other far-away Carnival destination), not to worry! If you look for the Mardi, it will find you! Chances are a Mardi Gras event is happening somewhere in your 'hood. Even better if you find one with a live New Orleans-style jazz band. Or maybe there's a masquerade ball, parade, or bar crawl that pops up. Oooh, we're getting excited!
Here's our tips on how to take part in lively Mardi Gras traditions:
Find a local Mardi Gras event and like we said, bonus if there's a brass band. Try and keep your tie on as the drinks are flowing. And please remember to always drink responsibly! On Fat Tuesday or the weekend before it, there's sure to be revelers out and about, raising a raucous and having a blast.
Promise us, wherever you go, make sure there's a sampling of Cajun or Creole cuisine to soak up the alcohol. Have you tried étouffée and beignets? Lip smacking delish! Fat Tuesday is about loading up on indulgent goodies after all.
Find a parade or watch one on TV! Check out the extravagant, colorful themed floats, often crafted by local artists. It's cool to look for design elements that represent the history and tradition of the celebration.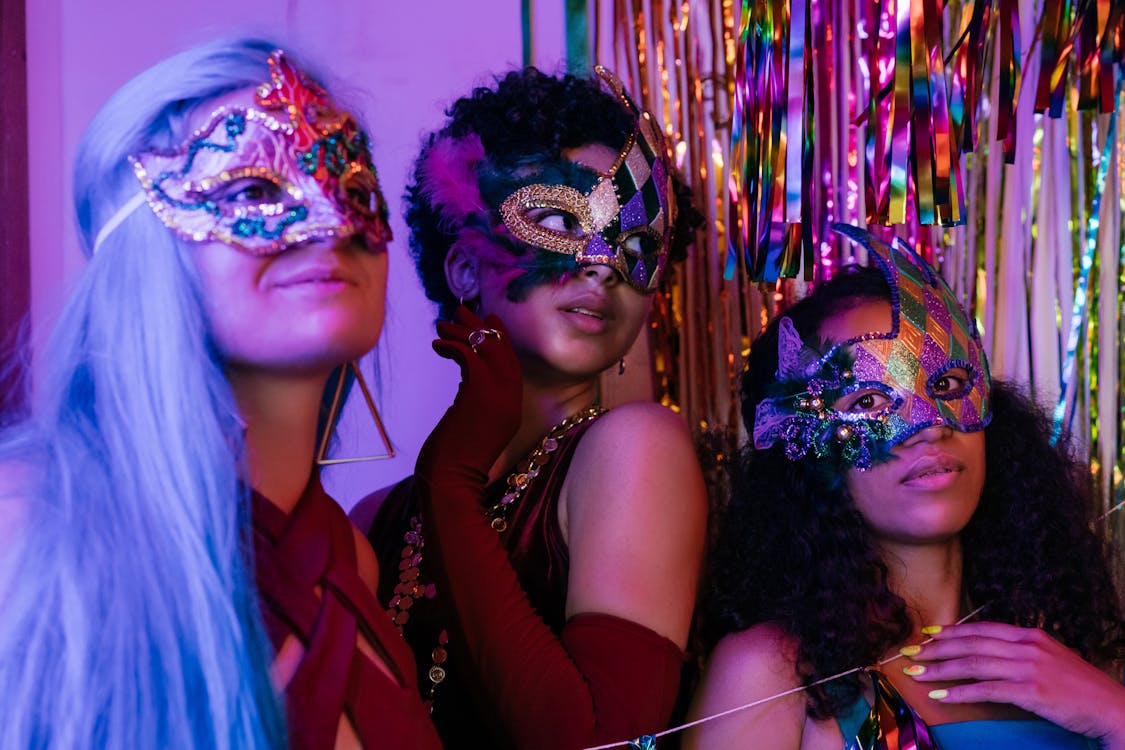 For carnival jubilees around the world, the mask is the universal symbol. Historically, masks gave anonymity while partying as they allowed people of different social classes to mingle together without any issues. And in fact, in New Orleans, it's actually against the law to be on a float mask-less!
This tip goes hand-in-hand with #1 above. Don't be afraid to dress the part! Grab some friends and slap together some Mardi gras outfits (feathers, anyone?) complete with masks. With beads in one hand and a drink in the other, get ready "to throw" to fellow partiers (but only if they ask!).
Must eat cake! King Cake, that is! The traditional confection of Mardi Gras is a moist doughy cinnamon pastry topped with the glittery frosted colors of the holiday and is a MUST HAVE for a most authentic experience. Keep an eye out for the tiny baby baked in a slice. Whoever gets the baby -laden piece is anointed King of the Mardis Gras party and host of the next!
We had a blast learning about this wild, exciting fête for the masses and hope you did too. We can't wait for you to be the "life of the Mardi" and for all the good times in store!
Happy Mardi Gras!