Spring is in the air! And we are here to welcome the new season with open arms! We gladly soak up the sunshine and bask in the sweet-smelling scents of fresh flowers abloom. Spring is a time of new beginnings so dare we say, there's a certain spring in our step? It's rejuvenating! Along with said springtime buzz comes the annual Easter holiday. Easter is a joyful time to gather with family and friends, observe religious traditions, fill Easter baskets full of goodies, and put up Easter decorations! Bunnies, colored eggs, pastels and fresh flowers…what's not to love! These springtime motifs are timeless and cheerful reminders of the season. Not to mention there's Easter brunch, chocolate bunnies, and local egg hunts! It's a busy day, to be sure!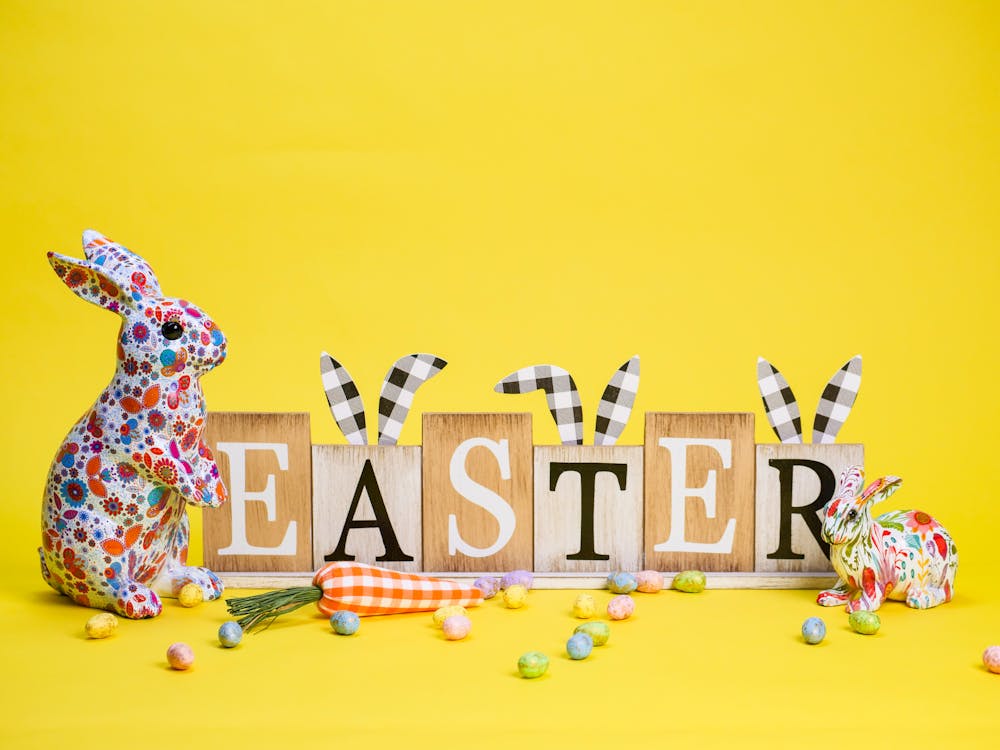 Brighten up your space with the colors and patterns of spring
Who says kids get to have all the fun on Easter? Why not make the most of this special season with fresh new Easter decorations to enliven your space for spring. But first, let's explore the significance of this special holiday.
The Meaning of Easter
For people of the Christian faith, Easter is the most important holiday of the year. It is the culmination of the season of Lent and the day they celebrate the resurrection of Jesus Christ. Easter is popular secular holiday as well, with its most enduring symbol being: an Easter bunny who delivers colored eggs and candy!
Why rabbits, you wonder?
The Bible makes no mention of bunnies, but these prolific (or, um…busy) procreators are actually ancient symbols of fertility and new life –and by extension, the spring season. Eggs, too, are an age-old symbol of birth and renewal. In fact, Easter may stem from the word "Eostre", the pagan goddess of spring and fertility. According to popular theory, early Christians adopted elements of Easter from a pagan festival celebrating Eostre, that ushered in the spring season.
When is Easter 2022?
This year, Easter is April 17th, 2022.
Where to buy outdoor Easter-themed décor?
Does your Easter décor need a spring refresh? Let us help with that! Our decor picks will lift your spirits and let the sunshine in –metaphorically speaking. We know the top places to shop for amazing Easter decor finds. Plus, we're listing our favorite Easter-themed items. Let's hop to it!
1. Browse physical stores for decorating inspo!
There's no shortage of physical stores and online shops to scan for outdoor and indoor Easter decorations. Personally, we love browsing in physical brick and mortar stores and admiring the calming pastel hues like robin's egg blue, pale yellow, pink, and lavender. Greens too, in all shades, are in abundance. And patterns such as gingham, polka dots and florals are charming design additions to any Easter color scheme.
Must. Get. To. Target.
Target is and always has been the top go-to for holiday finds. Every year, for every holiday, they release new designs in their home decor and toy departments. From Easter wreaths to wall décor, welcome mats, and beyond! Make sure to first roam the aisles of Target to gain holiday inspo for your outdoor and indoor Easter decor.
Hobby Lobby
Hobby Lobby is a store we never knew much about, but really started to dig. They have a Spring Shop in full bloom with amazing deals on seasonal garden swag, religious themed wall décor and egg-cellent Easter accessories.
Walmart
We already know Walmart has everything, so it stands to reason they carry a surplus of Easter décor to spruce up your nest –including this cute tabletop Easter egg tree. The Easter tree has gained popularity in the last few years but the custom is by no means a new one. Read more about it, here!
2. Online shops
Joyfy
If you're busy as a bee and can't make it out to do physical shopping, be sure and spring forward to Joyfy's selection of Easter decorations. Adorn your house with indoor and outdoor decorations alike! Our cute colorful décor will add fun and warmth to your lawn, garden or indoor space all at unbeatable prices.
3. Indoor Decorations
Wish everyone a Happy Easter with our Easter Hanging Chicks Decoration. The cracked Easter egg design has a colorful chick inside. Bring the bright springtime colors of Easter to a doorway, window, or anywhere you like!
Having an Easter party? Get your guest looking up with the Easter Swirl Hanging Decorations premium collection, 30 Pcs. The adorable foam ornaments are the perfect accessory to add sparkle and fun to your Easter party and more! The ornaments are simple to put together and can double as a fun craft activity for the kids.
Adorn your walls and windows with fun springtime characters with the Easter Window Cling Stickers. Set includes: 12 sheets of Easter window stickers with 130 in total. Features springtime characters like bunny, egg, carrot, happy Easter, flowers and more! They stick to smooth surfaces like glass, mirrors, windows, doors, and refrigerators. No glue needed!
Beautify your mantel with our Spring Easter Indoor Decoration which has symbols of spring like bunnies and eggs in a bright Easter color palette. Made of resin and handcrafted.
4. Charm your guests and neighbors with an outdoor Easter inflatable!
Which way to the Egg Hunt? This bunny will show you! The Tall Easter Bunny Inflatable Outdoor Decoration comes with an extended cord, ground stakes, fastened ropes, and built-in sandbags. It also lights up at night! All of our inflatables are easy and safe for kids to help set up. Plug it in and everything pops up in a minute!
Our love of mixing patterns is put on display with this Large Easter Eggs Inflatable. This attractive inflatable shows off the many shades of the springtime color palette.
Our Easter inflatables are premium quality plus safe and easy for kids to help decorate! Perfect for the front yard, garden, or Easter event.
That's not all folks…we have more outdoor decorations!
Like this: 8 Pack Easter Yard Signs. Includes: 8 pieces of decor all with unique designs. Characters include: frog, shy bunny, blue bunny, carrot, flower, Easter chick, and 2 Easter eggs.
Enchant your outdoor space with the Easter Friends Yard Signs 10-piece Set. All of our outdoor Easter decor sets will add color and fun to a yard, garden or deck, and are perfect to welcome guests to Easter brunch or an egg hunt!
This Easter, we hope you dress in your Sunday best and have a wonderful holiday nourished by the spirit of spring. Wishing you heartwarming memories and baskets of goodies for you and all your loved ones. Happy Easter!