As the weather heats up, it's that time to start prepping for the fun outdoor summer activities coming up ahead. And sizzlin' summer temperatures means lots of water playtime. Kids grow fast, so it's likely you'll need to replenish your child's swimsuits this summer. So make sure your little ones are stocked with new kids' swimsuits and swimwear so they are ready to go as soon as that last bell of the school year rings. From boys' swim trunks to girls' one piece bathing suits, we have some easy, simple tips you can follow when it comes to buying swimwear your kid can play in all summer long.
3 Things To Always Consider When Buying Swimwear
You can find bathing suits for kids just about anywhere, but it's important to pay close attention to what you're buying. We think there are three main things that you should always consider when looking for new swimwear: sun protection, comfort, and durability. These are essential to making sure your kiddo is well protected and comfortable for hours of outdoor summer play.
Adequate Sun Protection
For kids, there are many styles of swim shirts with sleeves, swim shorts, one-piece and two-piece suits that are designed to protect the body by providing more coverage. Additionally, many kids' swimwear today is made with fabrics that protect against harsh UV rays. So, look for a suit to help shield your little one from the sun, but one that doesn't sacrifice on comfort for play time fun.
Our boys' SLOOSH – Orange and Blue Stripe Kids Swimming Trunks are made from 100% high-quality UPF 50+ material that blocks harmful ultraviolet rays. They come in a classic stripe design with side pockets and an elastic comfort waistband. Kids can run, walk and swim with ease, plus the quick-dry material provides long-lasting comfort for those days in-and-out of the water… and then back again!
Comfort and Durability
Everybody likes to feel good about what they're wearing and kids are no exception. When kids play and run, they shouldn't have anything constricting them, so comfort is key! The material should be flexible so it moves with the body, but also moisture wicking so it dries quickly.
We know kids can spend hours in their swimsuits during the sweltering summer months, so durability is essential. Make sure to look for swimwear that holds up to extended sun exposure, chlorine, saltwater, and is fade-resistant –just like this pair of SLOOSH – Black and Blue Stripe Kids Swimming Trunks.
How to Find the Best Fit for Kids' Swimsuits (A couple things to consider)
Now to find a comfortable suit, the correct size is key. You would never want to hinder your kid's fun because they're wearing an ill-fitting suit. Additionally, if they're old enough to give some input, why not browse together and let them show you their favorite swimsuit styles.
Sizing Matters
Suits shouldn't be saggy or too tight. Always be sure to look at reviews because sizing and measurements can vary greatly by brand and style. And never go with one-size-fits-all styles. Find one that fits your kid perfectly.
Should you size up the swimsuit? For kid's swimsuits, the answer is NO. You don't want to size up because it could be too big. But if you foresee a growth spurt coming, buy an additional suit the next size up, so you'll be covered either way. Pro-tip: Keep the receipt and make sure you can return it if it's never used or doesn't fit!
Our swimsuits come in sizes for kids of all ages. Like these, SLOOSH – Pineapple Kids Swim Trunks available from size 2T to 14/16. Our swimsuits are suitable for toddlers, little kids, and big boys.
Let Your Kid Express Themselves by Choosing a Style They Love!
Choosing a color, pattern and design style are other important things to consider. Let your kid express themselves by picking out something that fits their unique personality and style preferences. Kids will love browsing with you, (online or at the store) picking out patterns or colors that resonate with their personal style. From boys' swim trunks to girls' swimsuits, some popular patterns include: color-blocking, two-tone, stripes, sea life, shells, camo, checkered, tie-dye, rainbow, floral, and more!
Boys Swim Trunks
Spot more of our comfortable, moisture wicking, UPF 50+ rated suits in our SLOOSH collection, like the SLOOSH – Anchor Kids Swim Trunks or the SLOOSH – American Flag Kids Swim Trunks. Our kids' swimming trunks have side pockets, elastic waistbands, and a drawstring closure. Plus, are made with a quick dry material for long-lasting comfort. Our swim trunks come in classic designs like stripes, anchors and the USA flag. All our boys' beach shorts are machine washable and long lasting.
Girls Swimsuits
Now, for the girls. We think Land's End is a top spot to find swimwear for kids. They have a wide variety of adorable styles and patterns and their girls' swimwear line is no exception!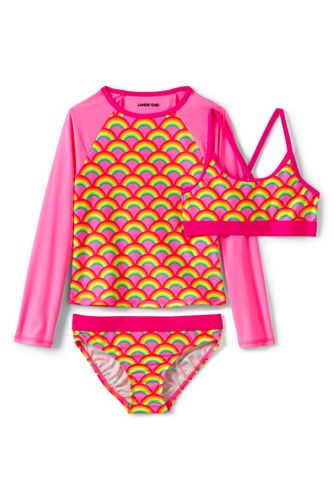 We thought this rainbow patterned Girls Sport One Piece Swimsuit along with the same pattern in a bikini style with a rash guard swim top is an adorable and functional design.
For the Ultimate Water Days, Don't Forget The Accessories
To make water days complete, don't forget must-have items like swim goggles, water shoes, sunscreen and towels galore. Plus, our SLOOSH line has a whole host of water toys to make for a truly splash-tastic summer. You read that right. This is the go ahead to be that cool 'water fun' family with all the goodies.
Swimming Goggles
Why goggles? Not only do they protect water and UV rays from going in the eyes, they're FUN! We know that being able to see underwater actually makes you want to swim longer!
Let your kiddos explore new depths with our 2 Pack Kids Swimming Goggles (Blue & Pink.) Each pack includes earplugs, nose clips, and clear cases for storage. They are anti-fog, anti-UV and have wide-view clear lenses. The strap and protective layer are made from soft silicone which provides comfort and a good seal to prevent water leakage –providing the best swimming experience! These are ideal for swimming lessons, beach days, and most water activities!
For a different style, check out the 3 Pack Kids Swimming Goggles (Black, Red & Green). Like the other style above, they have a 3D ergonomic design which optimizes the pressure around the eyes and prevents leakage.
Swim Water Shoes
Be a step ahead on safety! Water shoes are essential to have –especially when in natural water environments like a beach, lake, or river (can't hurt in the backyard either). Our SLOOSH water shoes are lightweight, quick-dry and protect little feet against sharp objects and harsh elements. The stretchy material is ideal for walking or swimming plus the high-quality slip-resistant rubber sole provides safety and protection.
Our eye-catching SLOOSH – Unisex Kids Swim Water Shoes, Unicorn provide the protection your child needs. Or we have the SLOOSH – Unisex Kids Swim Water Shoes, Dinosaur in an adorable dinosaur pattern.
That's it! We're so glad we could pass off our kids' swimwear tips to you because, after all, aren't fun-filled water days what summer's all about? What are your favorite activities to do during summer? Tell us in the comments below!