Wow, what a year! We are ready for 2021 to get lost and to begin anew for 2022. A fresh slate with new resolutions and goals to achieve and we are here for it! So with the holiday season coming to a close, we want to go big this New Year's Eve 2022! You know the drill, it's the next question on everybody's mind: "What are you doing for New Year's Eve?" Whether it's heading to a big bash or having a small intimate gathering at home –you gotta do something to celebrate! Personally, we love NYE because it means one more festive night to dress up, eat hors d'oeuvres, and drink bubbly (if you that's your thing).
New Year's Eve is the one night of the year where the whole world stops to reflect on the past year and welcome a new one with joy, festivity and hope. The entire world! That's kind of crazy when you think about it. Having gone through a global pandemic, many of us experienced loss or big changes in our lives, but that doesn't mean we can't have hope that things will turn around and change for the better. With difficulty, comes growth and new perspectives.
Also, setting a new year resolution is one way to work towards a goal you'd like to achieve in the coming year –which will in turn boost motivation and confidence. We could all use more of that! With that said, since nearly every country in the world celebrates New Years, have you ever wondered:
How do people celebrate New Years around the world?
Most traditions revolve around bringing luck and good fortune in the forthcoming year and some cultures, like the Chinese celebrate Chinese Lunar New Year on a completely different date! We need all the help we can get when it comes to bringing holiday vibes our way next year, so here's what we discovered and maybe you can try one of these traditions yourself!
In Denmark, you want to find a smashed plate on your doorstep because that means good luck for the next 12 months. So smash some plates with some friends!
In Japan, the Buddhist temples ring their bells 108 times. According to the Jodo sect, 108 depicts the number of worldly desires. These desires are believed to be the causes of pain and suffering to the human heart. So, the ringing of the bell 108 times symbolizes the purification from the sufferings accumulated in the past year.
Wearing colorful underwear is also a big one! In Mexico many local people plan their New Year's Eve outfits according to what they are hoping to manifest in the coming year. Red underwear is believed to attract love; yellow underwear will bring money and white underwear, peace. Lighting candles of these colors also has the same effect.
Many Italians, too, wear red underwear for luck and fertility if they are trying to conceive in the coming year.
Chinese New Year
Also known as Lunar New Year, is China's most important festival, Chinese New Year. This year, it falls on Tuesday February 1st, 2022. The Lunar New Year is seen as the most auspicious time of the year in Chinese culture and there are many traditions and superstitions associated with this time. In China, it's a public holiday with people getting an entire week off work –and the celebrations last for 16 days!
Some of the traditions include: family reunion dinners and staying up late on New Year's Eve; giving red envelopes with money and other gifts; lighting firecrackers/fireworks, watching lion and dragon dances, putting up decorations, and offering sacrifices to ancestors. Red is the prominent color all around Chinese New Year as red signifies luck and good fortune.
New Year's Day in India
New Years in India is celebrated similarly to other parts of the world. People all over India dress in colorful clothing, attend parties, dance and sing. In the major cities, big concerts are organized with Bollywood stars. New Year's resolutions are a big thing there, too! However, January 1st is not a national holiday, so many people stumble into work late because of the wild revelry the night before.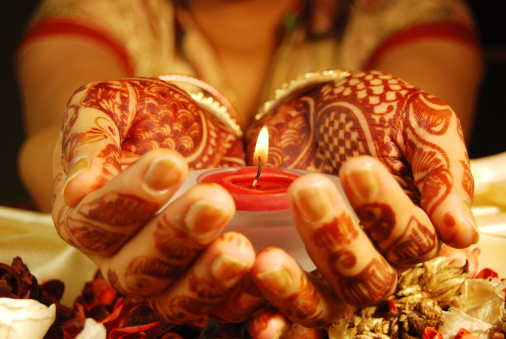 Hogmanay in Edinburgh
Have you heard of Hogmanay? It's the Scottish name for New Years and they have wild parties that last for three days! Scotland is the only country that celebrates Hogmanay. It's not known exactly where the name comes from –though it is believed to stem from the French word 'hoginane' which means 'gala day.'
During the fête, they do something called "First Footing" which is when you visit friends or family at the stroke of midnight to become the first person in their house in the new year. But there's a catch! To bring luck, the first person needs to be a tall, dark-haired man. This harkens back to the Viking invasions –as Vikings usually had fair hair and were not a welcomed sight. AKA the arrival of a blonde dude meant danger!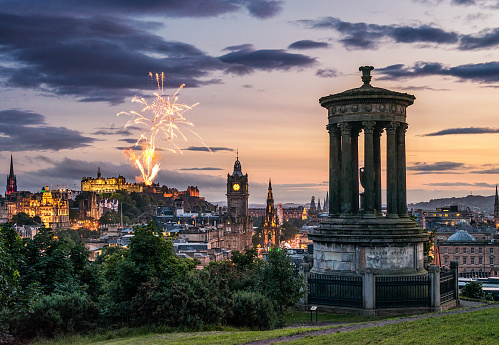 Jumping seven waves in Brazil
If you find yourself celebrating New Year's Eve at the beach in Rio de Janeiro, well…we'd be a little jealous. It's also customary to wear white and at midnight jump into the ocean over 7 ondas (waves) for good luck. The luck only happens if you're facing the waves head-on, and for every wave, you make one wish!
The number 7 is extremely sacred in Umbanda (an Afro-Brazilian religion) and linked to the Lemanjá (Water Goddess) who will give you the strength to overcome difficulties in the upcoming year.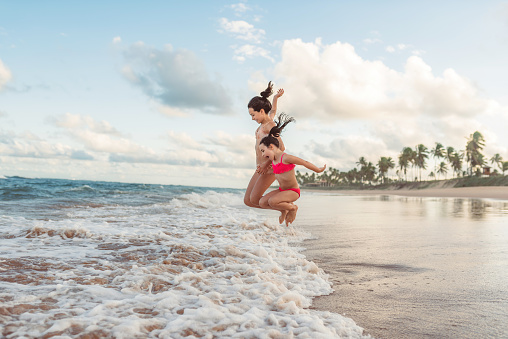 Eating Grapes in Spain
When the clock strikes midnight in Spain, it's tradition to eat 12 grapes. One for each bell strike at midnight December 31. Eating the 12 grapes leads to a year of good luck and prosperity, with some people also believing it wards off witches and evil.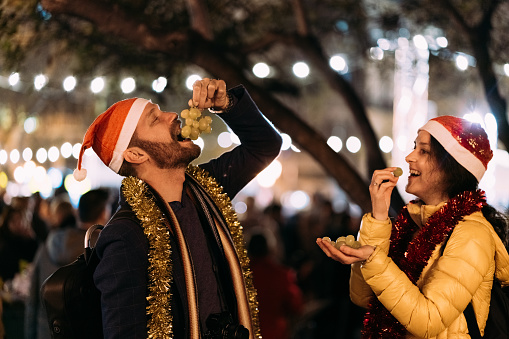 How can you celebrate the new year in the US?
Now that you've learned about some unique New Year's Eve traditions, maybe incorporate some into how you celebrate stateside! First off, make sure you're with people to do an annual New Year's countdown! But better yet…
Attend a NYE party or throw your own!
It's always fun to be the host, so why not throw a New Year's Eve party 2022!? Here's some New Year's party ideas: Set out appetizers and have people bring a dish of their own for a potluck! If you know of a dish that brings good luck, make that! Themed sparkly decorations will make it a real shindig. Turn up the music and turn down the lights, but don't forget party favors! Your guests will be so impressed.
Flip on New Year's Rockin' Eve, pop open the bubbly..and ahem…put out the jelly shots. Instant par-tAY! If you're able to keep your wits about you, set out some games. Maybe a poker table to make things interesting?
Another idea? Put on a New Year's Day picnic with the family complete with an old fashioned potato sack race and other lawn games. Outside in the fresh air with some BBQ is a great way to ring in the new year!
Well, we hope we got you brainstorming some incredible ideas for your New Year's festivities for 2022. May this new year bring you and your loved ones, health, happiness and prosperity. Happy New Year!